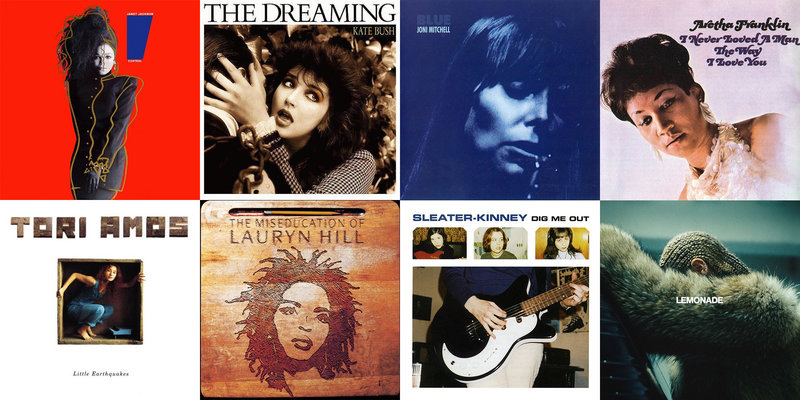 Here are our top 25 lists finally. Also check out the Product Shop lists: Albums, EPs, and Singles.
1) The Hold Steady – Boys and Girls in America
When I first heard Boys and Girls in America, I don't think I would have predicted it would be my favorite for the year. I thought that the polished production and careful arrangements violated the realness of my favorite bar band. But Craig Finn has left his lyrical stomping grounds of the Twin Cities and the characters that he knew there and The Hold Steady is musically reaching farther than their local dives. Their territory has gotten bigger and so has their music. The songs are still set in bars and at parties – and fueled by booze and drugs – but these stories could be happening all over America.
2) The Thermals – The Body, The Blood, The Machine
The Thermals made a leap of faith by ditching the lo-fi simplicity of their three-chord assault and even adding some keyboards, which took their sound out of the garage and into the studio. Hutch Harris spent more time crafting these lyrics than he has in the past and even tried to cut down his rampant cursing. But this leap was not without reason; the resulting album is an apocalyptic vision of a fascist religious state. This album really resonates with me considering our current government. I also appreciate their DIY punk aesthetic that goes all the way down to the collaged album covers.
3) TV On The Radio – Return To Cookie Mountain
When I listen to TV On The Radio's Return To Cookie Mountain, I try to imagine what Cookie Mountain would be like. I see a thick wooded forest covered in a blanket of dark fog with the rickety cabin at its peak, overlooking a huge metropolis below. Inside this one-lamp shack, there are reassembled transistor radios, exposed circuitry, and loose woofers from busted speakers. When all of these salvaged devices sing together, the haze over the mountain thickens. Tuned Adebimpe's falsetto singing is similar breeze. That might sound like a bunch of BS but this album is vivid and tireless. However, the cookies will remain a mystery.
4) The Blow – Paper Television
The Blow have four albums, I am not sure why I have not heard of them before their last, Paper Television. Even more boggling is that Khaela Maricich used to be a part of K Records labelmates The Microphones. When I saw her perform at the Fader House during CMJ this year, I was hooked. Khaela is an unassuming Northwestern, who got on stage clad in fleece jacket and clutching only a microphone. She is a casual singer too, but she can spin the everyday mundane thing into a clever lyric, even if it is not in perfect pitch. Her songs are almost like monologues set to music. Just add Jona's beats, which strike a happy balance between The Neptunes, The Post Service, and The Knife, and you get the folktro (yes, I made that up) duo know as The Blow.
5) Beirut – Gulag Orkestar
Zach Condon is a gypsy. He grew up in Albuquerque, traveled through Europe after high school, and then moved to Brooklyn. So naturally he stumbled upon Balkan gypsy music. The lush orchestration of ukuleles, accordion, trumpets, tambourines, and strings combined with his unwavering voice is both foreign and familiar. Gulag Orkestar is a serene portrait of his travels through pop songs he found in European folk tunes.