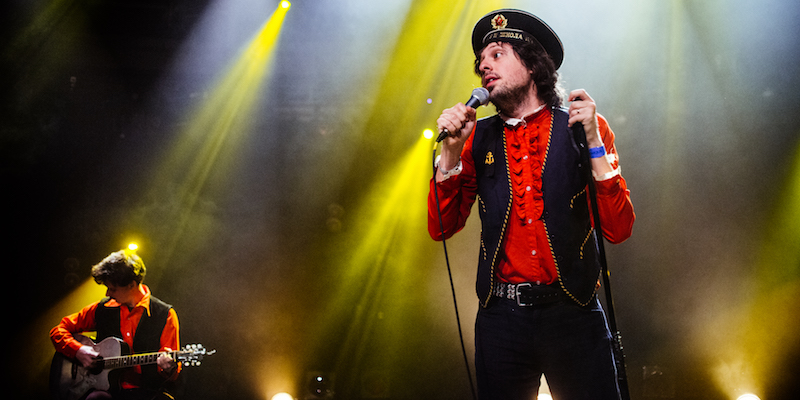 Mystery Jets are one of my new favorite bands and they are coming to the Mercury Lounge March 24th and 25th. There are a few awesome facts you may not know about this band.
Awesome fact #1: The lead singer's dad is in the band. So the band is partly comprised of four young chaps: Blaine Harrison (vocals/keyboards), William Rees (guitar), Kai Fish (bass), and Kapil Trivedi (drums). Henry Harrison (guitar/keyboard), who is Blaine's father, has been in the band since the beginning and has always encouraged his son to explore music.
Awesome fact #2: The band is based on Eel Pie Island in the River Thames near London, which can only be reached by footbridge or boat. Mystery Jets explain:
Blane: Mystery Jets is a band from Eel Pie Island
Henry: Eel Pie Island happened when Blaine was thirteen. I loved the idea of a being a step back from the mainland.
Blane: It is on the Thames, it used to be quite famous in the Sixties because a lot of bands started there, the Who, The Stones, the Yardbirds, Pink Floyd, Eric Clapton…
William: And there was a hotel where squatters lived and where they made this manifesto called the "Eel Pie Dharma". But then the hotel burnt down and there's been no-one there since and there's no music.
Blane: Music comes really easily there. There's a real sense of freedom.
So if that is not enough for you to check out Mystery Jets, check these assorted songs from the Eel Pie Island EP and the On My Feet EP. Get some more Mystery Jets stuff at 679 Recordings (digital downloads! and videos to watch in the Jets section) and soon in the states from Startime.
Drownin' not Wavin' (MP3)
Alas Agnes (MP3)
You Can't Fool Me Dennis (MP3)
Tour Dates:
March 16 – Austin, TX – SXSW Showcase
March 17 – Austin, TX – Filter Party
March 20 – Los Angeles, CA – Spaceland
March 21 – San Francisco, CA – Café Du Nord
March 24 – New York, NY – Mercury Lounge
March 25 – New York, NY – Mercury Lounge
March 27 – Toronto, ONT – Mod Club Theatre
More pics from Josh Hall Photography after the jump
Read the rest of the Mystery Jets interview here.