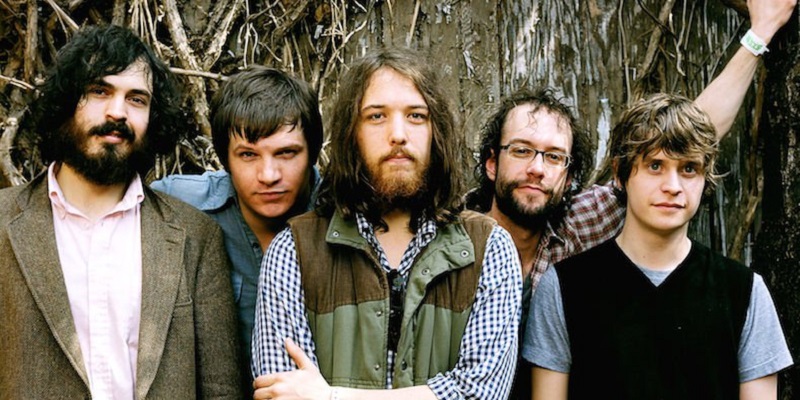 Fleet Foxes at Bowery were amazing last night, the band brought down the house even with three out of the five foxes seated the entire show. People were cheering like it was the end of their set after the second song. Singer Robin Pecknold was oddly wearing a winter knit hat for half of the show, and between songs, it was obvious he was sick because he would cough uncontrollably then chug a bottle of water.
That did not really seem to hurt the band's performance nor Robin's—he played a few songs by himself and that dude can wail; you can see it in his face. The band is still crucial to the music. J. Tillman is great on the drums and the other guys add in their own harmonies. Christian Wargo and Casey Wescott are also in Crystal Skulls. I don't know what Skye Skjelset does in his spare time but that is a cool name.
I also was under the weather and had to endure gastrointestinal hell towards the end of the show. I puked on the way home and did not even drink. Awesome. But I did stick it out for the whole thing and it was worth it.
Fleet Foxes plays again tonight at Union Hall. They have added a midnight show and tickets are on sale at noon. Union Hall also releases a few tickets at the door but you would have to line up early for the 7:30 show. Go!
FLEET FOXES TOUR DATES
Jul 10 :: Union Hall :: Bohan, Liberty City :: Midnight tix here
Jul 12 :: Sub Pop 20th Anniversary Shindig :: Marymoor Park, WA
Jul 14 :: Middle East Upstairs :: Boston, MA
Jul 15 :: Le Divan Orange :: Montreal, QC
Jul 16 :: The Phoenix W/ Malkmus :: Toronto
Jul 17 :: Pitchfork Music Festival Preview Event :: Chicago, IL :: Free
Jul 18 :: Terrace – University Thing :: Madison, WI
Jul 19 :: Pitchfork Music Festival :: Chicago, IL
Jul 20 :: 7th Street Entry :: Minneapolis, MI
Jul 22 :: Hi Dive :: Denver, CO
Jul 23 :: Kilby Court :: SLC
Jul 25 :: The Douglas Fir :: Portland, OR
Jul 26 :: Capitol Hill Block Party & Hibernation :: Xachua'bsh, WA
Aug 07 :: Haldern Pop Fest :: Rees-Haldern, Germany
Aug 08 :: Oya Festival – Homeland Beckons :: Oslo, Norway, Oslo
Aug 09 :: Way Out West Fest! :: Gothenburg, Sweden
Aug 10 :: Beatday Oh-Eight :: Copenhagen, Denmark
Aug 18 :: Red Butte Garden W/ Wilco :: Salt Lake City, UT
Aug 20 :: Eagle Knoll Winery W/ Wilco :: Boise, ID
Aug 21 :: Inb Arts Center W/ Wilco :: Spokane, WA
Aug 23 :: Les Schwab Amphitheater W / Wilco :: Bend, OR
Sep 17 :: Back 'Round The US of a Americatown
Sep 21 :: Treasure Island Fest :: San Fran, CA
Oct 24 :: Coming Back To UK & EU! :: Old World
Nov 05 :: Shepherd's Bush Empire :: London, UK